General Introduction:
DMX500 is a full-color LED control system which fouses on indoor and outdoor decorative lighting (Including LED underwater lights, LED water fountain lights, LED Inground lights, LED wall washer lights, LED underwater lights).
It comprises scene-edit software and CTL controller. You can edit various lighting effects by downloading the programme which edit according to your special requirement from your PC.This control system can fulfill 256 grey levels for each R,G,B color,totally 16.77 million real full-color. With the wireless remote controller, you can achieve the mode change and speed adjustment very
conveniently.There are 30 modes and 9 levels of speed you can choose, and with the pause function,you can keep the fixed color optionally.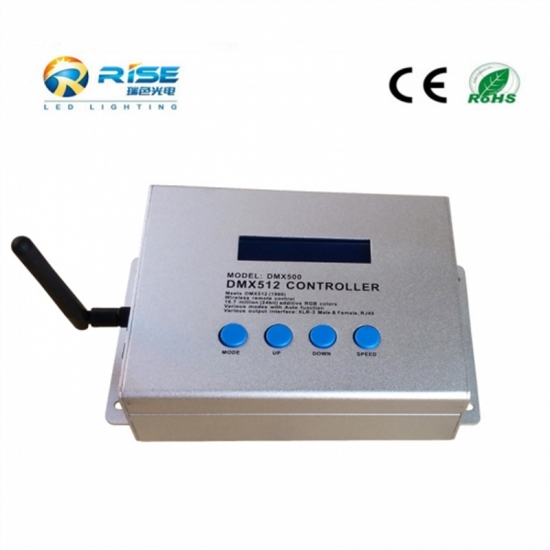 Features:
Meets DMX512(1990)
Digital screen shows current status
Wireless remote controller
256 levels of grey, totally 16.77 million colors, really full color
Various modes with Pause function
Nine different speed level
Automatic parameter memory
Various output interface, XLR-3 Male & Female, RJ45
Convenient for wiring and installation
Good function at anti-jamming and auto-resumption.
SD card built-in software, easy to programming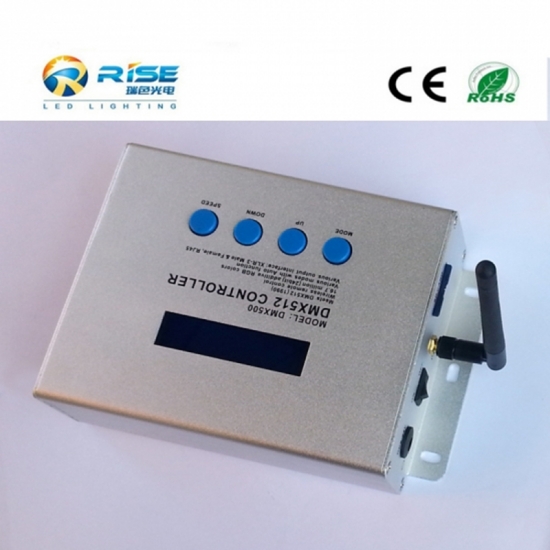 Technical Parameter
Input Voltage: 12VDC (Include 220/110VAC adaptor)
Power Consumption: <5W
Memory: 32KB
Output interface: 1 x RJ45, 2 x XLR-3
Transmission interface: DMX512 (1990)
Transmition speed: 250Kbps
Pixels: 50 pixels, 170 pixels max.
Lamp type can be: Wallwashing light, Tube light, LED under water lights, LED fountain lights, LED Inground lights
Controlled: Cube light, Underground
Control mode: Asynchronous full-color control
Remote distance: 50M
Description: Fixed 30 modes, such as flash,
Fade,streamy,chase, etc.
Package
Size: 152(mm)*120(mm)*52(mm)
G.W.: 0.65 KG
N.W.: 0.8 KG
Mode 1: Fixed Red LED underwater lights Mode 2: Fixed Green LED underwater lights Mode 3: Fixed Blue LED underwater lights Mode 4: Fixed Yellow LED underwater lights Mode 5: Fixed Light Blue LED underwater lights Mode 6: Fixed Purple LED underwater lights
Mode 7: Fixed White LED underwater lights Mode 8: Seven color fade LED underwater lights Mode 9: Full color fade LED underwater lights
Mode 10: Rainbow changing LED underwater lights Mode 11: Water flowing LED underwater lights Mode 12: Tail Chase LED underwater lights
Mode 13: Color stack LED underwater lights Mode 14: Chase(yellow,pink) LED underwater lights Mode 15: White flash LED underwater lights